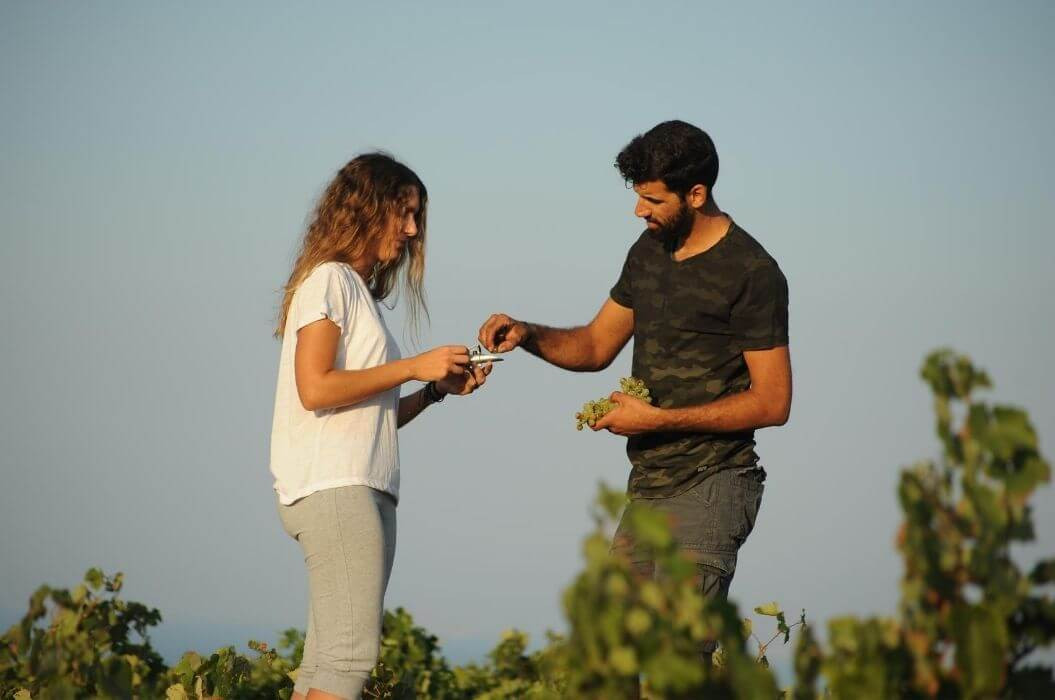 Wine producers, Real Artists!
Greece
Rizes2, apart from being a pioneering - or eccentric if you prefer - project, is also an optimistic message for the future of Greek wine.
The young viticulturist Spyros Chrysos and the young oenologist Iliana Malihin search of vineyards three or four times older than their age.
Their field of action is the unique terroirs of Santorini and Crete. The vines are grown organically and based on the principles of biodynamic cultivation. In the winery they will work manually and with their instinct, defying the conveniences of the time and trying through their minimalist philosophy to highlight the characteristics of the two areas.
Their Rizes2 wine is an explosive combination because it combines two varieties, two islands and two rare and unique pre-drying vineyards.
70% of the blend is Vidiano from the steep cliffs of Fourfouras in Rethymno, with the age of the cup-shaped autorizon vineyards exceeding 80 years. 30% of the wine is Assyrtiko from the vineyards of Louros in the Tower of Santorini with an age of at least 90 years and very low acreage yields. Vidiano and Assyrtiko are vinified separately in stainless steel tanks, the fermentation is spontaneous and the sulfites are kept at very low levels. The goal is to clearly capture the different terroirs. Spyros Chrysos and Eliana Malihin see their wine as a child whose life they must know from the inside They belong to a new generation of people who want to bring their own perspective on things.
A perspective with deep references and respect for the past and the wine wealth of Greece. Where the producer is a true viticulturist and the work-stricken hands and dirty boots are a sign and not a reason to feel uncomfortable. And if they fail to change the world they will surely change their own lives for the better. Because their own wine and nature will reward them for choosing this path.